About Coushatta Casino Resort
About the Coushatta Tribe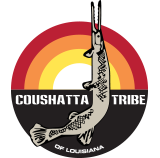 From their earliest days as a proud, hard-working people struggling to maintain long-standing traditions in the face of forced governmental relocation, the Coushatta Indians endured every hardship by which they were confronted.
Even after serious setbacks and tribal dispersions at the hands of regional government expansion, the character and ideals of the tribe held fast. Indeed, they were actually strengthened, and remain important elements of its culture today. The Coushatta language, in particular, is now considered unique among Native Americans because it has survived in its purest form.
The Coushatta Tribe of Louisiana was officially recognized by the Federal government in 1973, established its present home north of Elton in 1975, and marked a major turning point in tribal history in 1985 with the election by popular vote of the first Coushatta tribal government.
Like many other traditions and practices, the Coushatta family unit continues to flourish and in itself remains the cornerstone of Coushatta life. Today, the tribe is composed of seven large families known as "clans".
Past and present, the Coushatta Tribe may proudly boast of a culture rich in courage, ingenuity and perseverance.
As owners and operators of Coushatta Casino Resort, the people of the Coushatta Tribe of Louisiana invite you to experience the many influences of tribal history and heritage that have culminated in a truly family-friendly resort environment.
The Coushatta Tribe of Louisiana hosts an annual Powwow. For more information, please visit the Coushatta Powwow website.