MORE TABLES. MORE SLOTS. MORE FUN.
Now Open! Ready, Set, Bingo!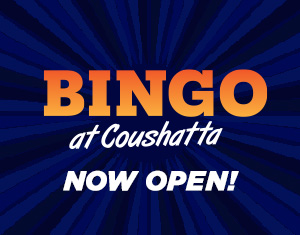 Bingo is Back!
BINGO is back and better than ever with an all-new, 312 seat BINGO hall! Catch all the high-energy action Thursday through Sunday, in its new location – formerly Mikko Slots. Enjoy self-serve fountain drinks and a designated smoking area.
Don't forget! Print a voucher at the kiosk to reserve your seat!
Kiosk availability to insure your spot begins at 8am for morning sessions and 3pm for evening sessions.
BINGO Hours
THURSDAY & FRIDAY
Doors Open 4:30pm / Early Birds 6:15pm / Main Session 7pm

SATURDAY & SUNDAY
Doors Open 10am / Early Birds 11:45am / Main Session 12:30pm
Doors Open 4:30pm / Early Birds 6:15pm / Main Session 7pm
Bingo SESSIONS
Thursday & Friday
6 Early Birds Games • 12 Regular Games • 5 Special Games
Session Details | Session Prices
Saturday (Matinee & Evening)
6 Early Birds Games • 12 Regular Games • 5 Special Games
Session Details | Session Prices
Sunday (Matinee & Evening)
6 Early Birds Games • 12 Regular Games • 5 Special Games
Session Details | Session Prices