FABULOUS Dining options
Big Sky Steakhouse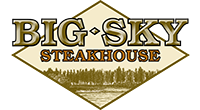 Big Sky Steakhouse is open with limited hours. Some tables may be unavailable or arranged differently to ensure appropriate social distancing.
ABOUT BIG SKY STEAKHOUSE
Our custom cuts and aging process offer incredibly tender, naturally juicy, abundantly flavorful, and quite frankly the best beef money can buy.
Full Service Bar
Big Sky Steakhouse has a beautiful full service bar with comfortable seating and an ever-changing light show. When you're dining with us in the restaurant, enjoy a cocktail at the bar, before or after your meal!
Reservations
To reserve your table, please phone 800.584.7263, ext. 7004.
REGULAR HOURS
Wednesday & Thursday • 4pm-9pm
Friday & Saturday • 4pm-10pm
Sunday • 4pm-9pm
Monday & Tuesday • Closed