GREAT LODGING OPTIONS
Seven Clans Hotel

Enjoy the comforts of the spacious Seven Clans Hotel lobby. The hotel is connected to the casino –– so the action is only a few steps away.
Please call 1-888-774-7263 to reserve your room.
Comfortable & Modern Rooms
Seven Clans Hotel at Coushatta is a 100% non-smoking property with sleek modern furnishings, lavish spa style showers and custom bedding and linens in all rooms. The hotel is conveniently connected to the gaming floor at main casino entrance. All rooms have an in-room safe, refrigerator, high definition televisions and complimentary Wi-Fi.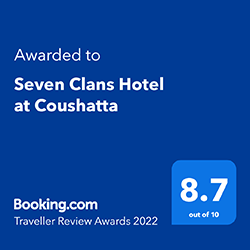 This is a non-smoking hotel, which includes all rooms, suites, and public areas. Quick-snack and beverage vending and ice machines are available on each floor, or "have it delivered" with room service. King and double queen handicapped rooms available.
COMFORT, STYLE & CONVENIENCE
Relax in the spacious, comfortable Seven Clans Hotel lobby. Shop for designer apparel, accessories and upscale souvenirs at the Gift Shop. And enjoy the convenience of staying just a few steps away from all the exciting casino action.
RESERVATIONS
Check in 4pm | Check out 11am.
For more information or to make a reservation please call 1-888-774-7263. Sorry, no pets allowed.