MORE TABLES. MORE SLOTS. MORE FUN.
Poker High Hand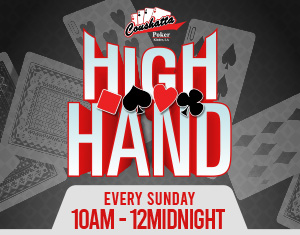 Every Sunday • 10am-12midnight
To qualify for the High Hand promotion, players must be playing in a Hold-em jackpot-eligible game with at least 4 players and $30 in the pot.
The High Hand promotion offers payouts for making Quads (Four-of-a-Kind) or better.
Two of the player's hole cards must be used in making a qualifying hand. The player's two hole cards must be part of their best possible hand.
In all games, to qualify for a payout for Quad's, the player's hole cards must contain a pair.
Quads pays $100, Straight Flush pays $150, Royal Flush pays $200.
Players can only qualify for one payout amount per hand, per hour, per table. They cannot qualify for a payout from multiple promotions with the same hand, unless specifically stated in other promotions.
Players must play their hands independently. Any discussion of the hand or promotion during the playing of the hand may void qualification for a payout. If any player, whether directly or indirectly involved in the hand, passes information, or instructs another on how to act or reveals his/her hand to other players, the player may not be eligible for a payout.
Reduced rake games are not eligible to win.
---
Safety Policy
Must be 21 years of age or older.
Coushatta Casino Resort reserves the right to alter or cancel any event or promotion without prior notice. Offers are not intended for excluded guests.