MORE TABLES. MORE SLOTS. MORE FUN.
Poker Splash the Pot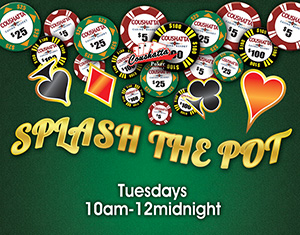 Splash: $100 Added
Every Tuesday • 10am-12midnight
When three (3) suited cards appear on the flop, $100 will be added to the next hand.
To be eligible, you must be playing in a jackpot-eligible Hold'em game with a minimum of 4 players and $30 in the pot. You must be playing in both hands: you must be dealt in to the hand prior to splashing the pot, and in the splashed hand.
If a player who was not dealt into the splash-eligible hand wins the pot, the next hand will be splashed until the prize is awarded.
Reduced rake games do not qualify for this promotion.
This prize will be considered placed in the pot, and will be subject to table stakes rules.
The promotion may be hit a maximum of two (2) times per hour per table.
Players must have hand properly identified and verified by a supervisor.
Valid photo ID and Coushatta Advantage card required to claim prize when the pot is splashed.
Hands must go to the flop to qualify.
---
Safety Policy
Must be 21 years of age or older.
Coushatta Casino Resort reserves the right to alter or cancel any event or promotion without prior notice. Offers are not intended for excluded guests.