MORE TABLES. MORE SLOTS. MORE FUN.
Poker Mini Bad Beat Jackpot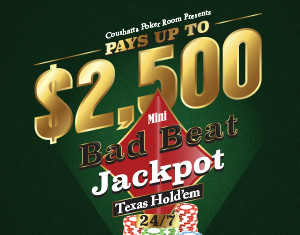 Pays up to $2,500!
24 hours a day, 7 days a week
Lose Aces full of Kings or Better, Beaten by Quads or Better
Losing Hand Wins $1,000
Winning Hand Wins $500
Remaining Players Each $125
Must have a minimum of four players in a jackpot eligible game and $30 in the pot to qualify.
Total payout will decrease when less than 10 players are dealt in hand.
Reduced rake games do not qualify.
Main jackpot hands do not qualify for mini jackpot payouts.
Both cards in your hand must play, three on the board and two in your hand.
Kickers must tie or beat the board when playing four of a kind.
Player's share will not increase when less players are dealt in hand.
You must play the best five cards to qualify for mini jackpot.
Only the two highest qualifying ranking hands are considered when determining if a jackpot exists.
Any deviation not in compliance with a standard deck will null and void the mini jackpot.
Conversation by players about the jackpot during play of the hand may cause jackpot to be null and void.
Players must be at the table and dealt a hand in order to qualify for the jackpot.
Valid photo ID and Coushatta Advantage Club card are required to claim prize.
Coushatta Casino Resort reserves the right to alter or cancel this promotion at any time.
---
Safety Policy
Must be 21 years of age or older.
Coushatta Casino Resort reserves the right to alter or cancel any event or promotion without prior notice. Offers are not intended for excluded guests.