MORE TABLES. MORE SLOTS. MORE FUN.
Poker Omaha Promotion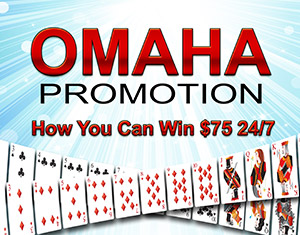 You can Win $75 24/7!
Every Day • All Day Long
Playing Omaha Hi/Lo
If you are dealt four (4) unpaired cards ranked A, 2, 3, 4, 5 … or ... two (2) Aces and two (2) unpaired hole cards ranked 5, 4, 3, 2, and lose.
Playing Omaha High
If your hole cards are pair of Aces and a pair of Eights or higher, and lose.
You must be playing in an Omaha jackpot-eligible game with four (4) players and $30 in the pot.
Hole cards containing three (3) or more Aces do not qualify.
The hand must go to the showdown with all bets completed.
Supervisor must verify that all qualifiers have been met.
Reduced rake games will not qualify.
You cannot win any portion of any pot to qualify.
---
Safety Policy
Must be 21 years of age or older.
Coushatta Casino Resort reserves the right to alter or cancel any event or promotion without prior notice. Offers are not intended for excluded guests.