FABULOUS Dining options
Courtyard Café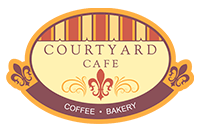 ABOUT courtyard café
Courtyard Café is conveniently located in the lobby of Seven Clans Hotel. Come and enjoy a steaming hot cup of freshly brewed coffee, a silky latte, a specialty drink or delicious pastries. Enjoy your treats indoors or take your goodies outdoors to the Sculpture Garden's covered patio and relax in the serenity of an open-air setting.
HOT BEIGNETS are back!
Did you know? Beignets are the official state doughnut of Louisiana! At Courtyard Cafe you can savor these piping hot squares of deliciousness––lavishly sprinkled with powdered sugar––with a cup (or two!) of freshly brewed coffee in a beautiful open-air setting. It's the sweetest way to take a break and enjoy a breath of fresh air!
homemade candies
Reward your tastebuds with the creamy goodness of our popular new favorites. Our daily fresh-made variety of homemade chocolate and candy treats are just bursting with irresistible flavor––it's a real sweet deal. Whether you're getting your day started or reinvigorating your afternoon, Courtyard Café is your one-stop-shop for a quick pick-me-up. It's the sweetest way to take a break!
VIEW MENU BEIGNETS MENU HUNT BROS MENU
HOURS
Sunday-Thursday • 6am-5pm
Friday-Saturday • 6am-8pm