NINE FABULOUS Dining options
Big Sky Steakhouse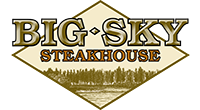 ABOUT BIG SKY STEAKHOUSE
Our custom cuts and aging process offer incredibly tender, naturally juicy, abundantly flavorful, and quite frankly the best beef money can buy.
Proudly Serving Allen Brothers Steaks!
Big Sky Steakhouse is proud to serve famed Allen Brother's USDA aged steaks, purveyors to the finest steakhouses in America.
MENU HIGHLIGHTS
Indulge your taste buds with all your southern favorites at Big Sky. Start your meal with the perfectly seasoned crawfish, fried to a golden brown and served with Creole tartar sauce, or tasty crab cakes.
Try our newest: stuffed shrimp and red fish with our own crawfish étouffée.
Please call in advance for reservations: 800.584.7263, ext. 7004
Our MenuS
VIEW MENU (PDF) VIEW WINE MENU (PDF)
HOURS
Tuesday-Thursday • 4pm-10pm
Friday-Saturday • 4pm-11pm
Sunday • 4pm-10pm
Monday • Closed
Menu items and prices subject to change and availability.