MORE TABLES. MORE SLOTS. MORE FUN.
Noodles April Weekly Specials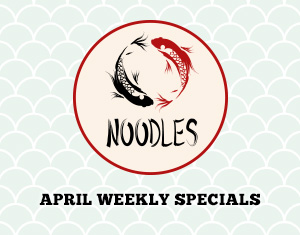 Enjoy fabulous April Weekly Specials at Noodles!
New specials available every week in the month of April 2023.
Each special is served with egg drop soup, pork pot sticker and vegetable fried rice.
Moo Shu Chicken with Flour Tortilla $25
April 1–9
Stir-fried chicken with cabbage, bamboo shoots, mushrooms, onions and sweet and savory brown sauce, served in flour tortillas.
Shrimp & Broccoli $25
April 10–16
Seasoned shrimp stir fried in a rich-flavored dark brown sauce and garlic with broccoli.
Salt & Pepper Pork $25
April 17–23
Seasoned bone in pork and deep fried tossed with onion, garlic and peppers in five spice seasoning.
Sweet & Sour Chicken $25
April 24–30
Deep fried chicken served with a sweet and sour sauce and pineapple, green and red bell pepper.
---
Coushatta Casino Resort reserves the right to alter or cancel any event or promotion without prior notice. Offers are not intended for excluded guests.