MORE TABLES. MORE SLOTS. MORE FUN.
Poker A Spring Break for Your Wallet
April 15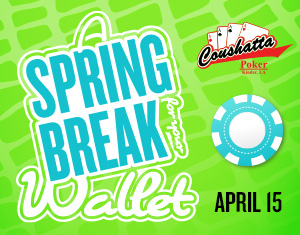 Give Your wallet a Break with Mystery CASH PRIZES!
Saturday, April 15 • 1pm-1am
There will be drawings every half hour from 1pm to 1am in the Poker Room. And each winner chooses a Earned Entries Envelope or a Lucky Seat Envelope that contains a Cash Prize!
Entry Winner
1PM-12AM • Every Hour, A Winner Will Be Drawn From Accumulated Entries.
Earned Entries Envelopes:
5 contain $100
2 contain $200
2 contain $300
2 contains $400
2 contains $500
1 contains $1,500
1 contains $2,000
Lucky Seat Winner
1:30PM-12:30AM • Every Hour, A Lucky Seat Winner Will Be Drawn.
1AM • Final Winner Receives $2,000 Plus All Remaining Cash Prizes.
Total Payout Up To $8,000.
Lucky Seat Envelopes:
9 contain $100
2 contain $200
1 contain $300
1 contains $400
1 contains $500
1 contains $1,000
How to enter
For Entry Winner drawings, earn entries now through 12pm April 15. Earn 2x entries per hour 12am-3:59am, 4x entries per hour 4am-9:59am and 1x entry per hour 10am-11:59am.
For Lucky Seat Winner drawings, participate in live Poker games playing at the time of drawing to enter. Players must be actively playing at their seat to qualify.
Come Win Your Share!
---
Safety Policy
Must be 21 years of age or older.
Coushatta Casino Resort reserves the right to alter or cancel any event or promotion without prior notice. Offers are not intended for excluded guests.