MORE TABLES. MORE SLOTS. MORE FUN.
Valentine's Day Dining Specials
February 11, 12, 14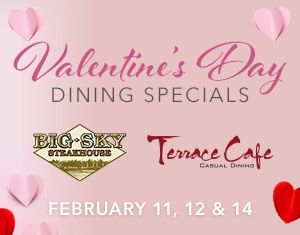 Enjoy Our Valentine's Day Dining specials!
Available on select days in the month of February 2023.
Treat your valentine to a special Valentine's dinner at Big Sky Steakhouse and Terrace Cafe!
---
Valentine's Dinner for two $125
Available at Big Sky Steakhouse, February 11, 12 & 14
Includes two starters, one shared entrée, and one shared dessert

STARTER
Lobster Bisque or Mixed Berry and Baby Spinach Salad
ENTRÉES
Duck Confit with Orange Marmalade Reduction
Pan seared duck with an orange marmalade reduction served with a side of crispy duck fat potatoes and spicy French green beans.
or
Beef Medallions with Shrimp and Lobster Cream Sauce
Two Beef Medallions served over Boursin mashed potatoes and asparagus topped with a lobster and shrimp cream sauce and grilled shrimp.
DESSERT (SHARED)
Strawberry Shortcake Trifle
Almond genoise, orange simple syrup, vanilla bean cream parfait, fresh fruit trifle.
or
Red Velvet Cake
Chocolate fudge filled Red Velvet cake with cream cheese frosting and chocolate covered strawberry.
WINE
Add a Glass of Conundrum (red blend or white blend) $6
---
Valentine's Day Specials
Available at Terrace Cafe, February 14

COCTAILS
Bailey's Red Velvet Cupcake Martini with Chocolate Liqueur $9
Cotton Candy Champagne with Strawberry Cotton Candy $9

STARTER
Strawberry Walnut Salad $6
Spring Mix lettuce, Strawberries, Candid Walnuts, Feta Cheese, and Raspberry Vinaigrette.

ENTRÉES
Blackened Ribeye with Scallops $38
Blackened Ribeye Topped with Herbed Butter Seared Scallops, Served with Creamy Spinach Casserole, and Buttery Garlic Mash Potatoes.
Red Snapper Oscar $33
Pan Seared Red Snapper topped with Louisiana Crab and Béarnaise Sauce, Served with Deep Fried Asparagus and Cajun Jambalaya.
DESSERT
Bailey's Strawberries & Cream Trifle $9
---
Check Out All Valentine's Day Events!
$60,000 Valentine's Sweetheart Giveaway
Valentine's Day Room Special
---
Coushatta Casino Resort reserves the right to alter or cancel any event or promotion without prior notice. Offers are not intended for excluded guests.