MORE TABLES. MORE SLOTS. MORE FUN.
Poker Jacks Can't Lose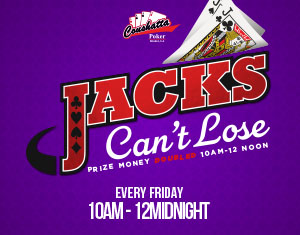 Every Friday • 10am-12midnight
When a player is dealt pocket Jacks and WINS, the player will receive $50.
If the player LOSES the entire pot with pocket Jacks, including any side pot(s), players will receive $100.
From 10am-12noon, winning pocket Jacks hand will receive $100 and losing pocket Jacks hand will receive $200.
The Jacks hand must go to the Showdown, but it doesn't have to go to the River.
All Jacks hands must be verified by the Dealer and the Supervisor.
Player must receive the pocket Jacks hand(s) in a jackpot-eligible Hold'em game with at least 4 players and minimum $30 in the pot.
Maximum of 2 payouts per hour, per table.
If 2 players are in the hand and both have pocket Jacks, both players will be paid and it will count as 1 payout for that hour.
Discussion of any hand in progress and/or encouraging another player to call a bet to meet the pot minimum may disqualify the player for the promotion.
---
Safety Policy
Must be 21 years of age or older.
Coushatta Casino Resort reserves the right to alter or cancel any event or promotion without prior notice. Offers are not intended for excluded guests.