MORE TABLES. MORE SLOTS. MORE FUN.
Poker Thursday Straight Flush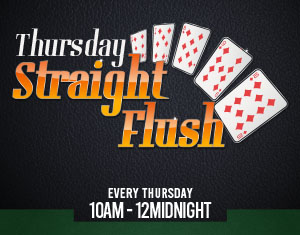 Every Thursday • 10am-12midnight
You must be playing in a jackpot-eligible (Hold'em only) game with at least 4 players and $30 in the pot.
If you flop a straight flush using both of your hole cards, you win $1000.
If you make a straight flush, on the turn or the river, using both of your hole cards, you win $500.
You are not required to win the pot to win the promotion.
Players must have hands properly identified and verified by the dealer and the supervisor.
Hand must go to showdown. It doesn't have to go to the river.
Reduced rake games do not qualify for this promotion.
---
Safety Policy
Must be 21 years of age or older.
Coushatta Casino Resort reserves the right to alter or cancel any event or promotion without prior notice. Offers are not intended for excluded guests.