MORE TABLES. MORE SLOTS. MORE FUN.
October National Food Days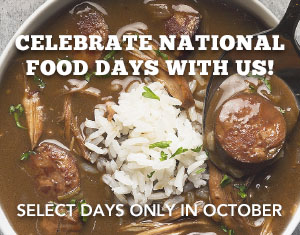 Enjoy national food holiday specials this Month!
Available on select days only in the month of October 2021.
Celebrate national food holidays with these delicious dining specials – all month long!
---
National Taco Day
October 4
Gumbeaux's – Smoked brisket street taco sampler $14
Terrace Cafe – All-you-can-eat tacos $15
Lagniappe Market – Fried catfish taco with pico de gallo and seasoned fries $12
---
National Gumbo Day
October 12
Gumbeaux's – Bottomless bowl of Chef's award-winning wild game gumbo $15
---
National M&M® Day
October 13
Gumbeaux's – Warm M&M® cookie skillet with vanilla ice cream $6
---
National Caramel Apple Day
October 31 • Halloween
Lagniappe Market – Gourmet selection all day (Grab N Go packaged) $5
---
Costume Contest Mystery Special
October 31 • Halloween
Gumbeaux's – Wear a costume, get a mystery discount on a G.H.C. burger and Tabasco® fries
---
Coushatta Casino Resort reserves the right to alter or cancel any event or promotion without prior notice. Offers are not intended for excluded guests.