MORE TABLES. MORE SLOTS. MORE FUN.
Poker Full House Payday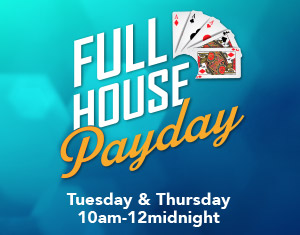 Every Tuesday & Thursday • 10am-12midnight
Full House Payday Winning Hands:
AAAJJ • AAA1010 • AAA99 • KKKJJ • KKK1010 • KKK99 • QQQJJ • QQQ1010 • QQQ99
Each Full House printed above wins $200, and can only be hit once on Tuesday
and once on Thursday.
Both hole cards must play.
Player must be actively playing in a jackpot-eligible game with a minimum of four (4) players and $30 in the pot.
Players must have hands properly identified by the dealer and a supervisor must be
notified to view, prior to the next hand.
As each qualifying hand is won, it will be crossed out on the board, showing that
hand has been hit.
If hand is tied, the prize will be split evenly among winning players.
---
Coushatta Casino Resort reserves the right to alter or cancel any event or promotion without prior notice. Offers are not intended for excluded guests.