MORE TABLES. MORE SLOTS. MORE FUN.
Poker Blackout Bingo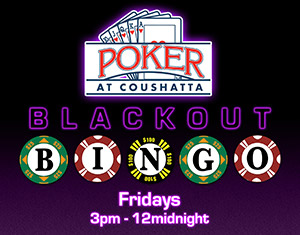 Play Blackout Bingo!
Every Friday • 3pm-12midnight
The Coushatta Blackout board will consist of twelve (12) Four-of-a-Kinds (Treys-Aces), nine (9) Straight Flushes, (5 High to King High), of various suits and Royal Flush of each suit (Clubs, Diamonds, Hearts, Spades).
Each Four-of-a-Kind cleared from the board will pay $200.
Each Straight Flush cleared from the board will pay $300.
Each Royal Flush cleared from the board will pay $500.
Each Bingo will pay $700 per line. A Bingo occurs when clearing five (5) consecutive hands vertically, diagonally, or horizontally.
A Blackout will pay $5,000. A Blackout occurs when the final hand is cleared from the board.
Hands will be paid in addition to Bingo and Blackout.
You must be playing in a jackpot-eligible game with a minimum of four (4) players and $30 in the pot.
You must use both hole cards to make a hand, must have a pocket pair for Four-of-a-Kind (no kickers).
You must play the best possible five-card hand to qualify.
Players must have hands properly identified by the dealer, and a supervisor must be notified to view prior to the next hand.
The initial placement of the board hands will be randomly selected.
As each qualifying hand is won, it will be marked out on the board, showing that it is ineligible for payouts.
The hand that is identified first in turn will be the only hand eligible for prizes: NO TIES.
---
Safety Policy
Must be 21 years of age or older.
Coushatta Casino Resort reserves the right to alter or cancel any event or promotion without prior notice. Offers are not intended for excluded guests.