OVER 100,000 SQ FEET OF GAMING
$400,000 Cash-Vember Payoff Playoff
November 23, 30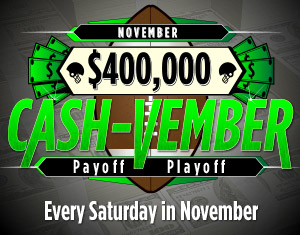 NOVEMBER IS CASH-VEMBER!
Join us for the CASH-VEMBER Payoff Playoff every Saturday in November! You can be one of the 130 lucky players and win your share of $400,000 in cash!
Starting at 6pm on the first four Saturdays of November, up to 4 winners split $5,000 every hour 'til 10pm. Then at 11pm, 5 lucky winners split the $25,000 cash grand prize.
But wait ... there's more! On Saturday, November 30 it's the Payoff Playoff Finale! Up to 4 winners split $5,000 every hour from 6pm to 10pm. At 11pm, 9 grand prize finalists play the Payoff Playoff Game Board and win $5,000 to $15,000 in cash! And at 12midnight, one winner will be the Ultimate Cash Prize Champion and go home with $100,000 in cash!
Come Win Your Share!
---
Safety Policy
Must be 21 years of age or older.
Coushatta Casino Resort reserves the right to alter or cancel any event or promotion without prior notice. Offers are not intended for excluded guests.