OVER 100,000 SQ FEET OF GAMING
Poker Fall Cash Surprise Giveaway
October 26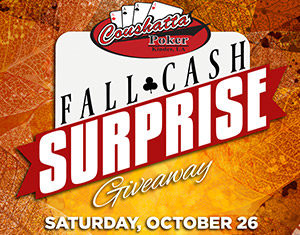 MYSTERY CHIPS MEAN MYSTERY CASH PRIZES.
Join us Saturday, October 26 for the spectacular Fall Cash Surprise Giveaway!
There will be hourly drawings from 1pm to 1am in the poker room. And each hourly winner chooses a Mystery Chip that contains a Mystery Cash prize.
At 1am, one lucky player will win all of the remaining Mystery Cash prizes plus $1,000!
17 Mystery Chips Contain a Mystery Cash Prize!
• 4 contain $100
• 4 contain $200
• 2 contain $300
• 2 contain $400
• 3 contain $500
• 1 contains $1,000
• 1 contains $1,500
---
Safety Policy
Must be 21 years of age or older.
Coushatta Casino Resort reserves the right to alter or cancel any event or promotion without prior notice. Offers are not intended for excluded guests.