Live Events & Entertainment
25th Annual Coushatta Powwow
June 10-11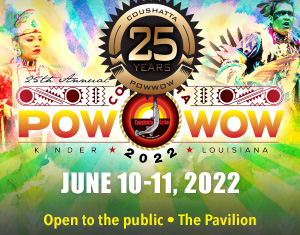 Experience the Vibrance and Color of this Traditional
Powwow!
The Coushatta Powwow is one of the largest in North America, and is truly a one-of-a-kind experience.
This is a family-friendly event offering a look at the fascinating culture and heritage of Native Americans.
Event Schedule
Friday, June 10
5pm Gourd Dance • 7pm Grand Entry
Saturday, June 11
10am Gourd Dance • 12pm Grand Entry
5pm Gourd Dance • 7pm Grand Entry
Admission is $5 per day
Children age 6 years and under are admitted free
Purchase tickets at the gate on the day of event
---
Safety Policy
Age 16 and younger must be accompanied by a parent or guardian.
Coushatta Casino Resort reserves the right to alter or cancel any event or promotion without prior notice. Offers are not intended for excluded guests.