Live Events & Entertainment
July Vietnamese Concert
July 14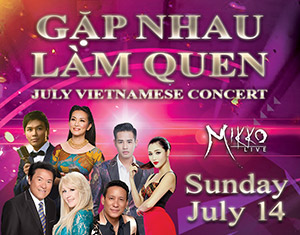 Meet our new Asian host!
Sunday, July 14 at Mikko LIVE!
You are invited to a magical night of musical entertainment. It's a "Get Acquainted" Live Show starring Mạnh Quỳnh, Hương Thủy, Khải Đăng, Diễm Sương, and Công Thành và Lyn with master of ceremonies Thanh Tùng.
Admission is FREE with your FREE Advantage Club card. For reserved seats, call Jackie Pham at 337-738-1320. Tickets will be distributed at Grand Hotel VIP check-in 12pm-3pm on day of event.
Showtime
Doors open 3pm • Show starts 4pm
Don't Miss the Fun!
---
Safety Policy
Must be 21 years of age or older.
Coushatta Casino Resort reserves the right to alter or cancel any event or promotion without prior notice. Offers are not intended for excluded guests.