Live Events & Entertainment
George Thorogood and The Destroyers
November 11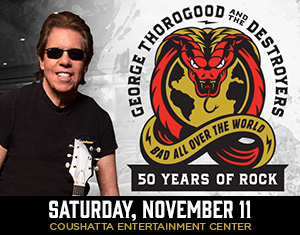 George Thorogood and The Destroyers is coming to Coushatta!
Saturday, November 11
Join us for an exciting night of music in the Coushatta Entertainment Center!
Doors open 7pm
Showtime 8pm
Tickets on sale now at Ticketmaster.com.
About George Thorogood and The Destroyers
On the evening of December 1, 1973 at The University of Delaware's Lane Hall, a
guitarist, a drummer, and their rhythm guitarist set up on the small bandstand. Though
the three-piece band had barely rehearsed, guitarist George Thorogood and drummer
Jeff Simon had been bashing out covers of songs they loved – including 'No Particular
Place To Go', 'Madison Blues' and 'One Bourbon, One Scotch, One Beer' – in suburban
Wilmington basements since they were teens. The Lane Hall audience was wary at first.
"Then it was like somebody flipped a switch," Simon recalls. "Everybody hit the dance
floor all at once."
"We had the place rockin'," Thorogood says. "From that very first show, Jeff and I knew
we were onto something." Five decades, 15 million albums and more than 8,000
performances later, few bands can still rock the house like George Thorogood &
Destroyers. And for Thorogood, Simon, and long-time Destroyers Bill Blough, Jim
Suhler and Buddy Leach, their Bad All Over The World – 50 Years of Rock Tour will
be a celebration like no other.
But when asked to pick a career highlight, maybe one night over the past half century
that changed everything for George Thorogood & The Destroyers, he shakes his head,
flashes a huge grin and heads off to soundcheck. "My highlight is when I step on that
bandstand," Thorogood says. "The promoters invited us, the fans came to hear us, and
we're ready to rock. Every night I play for people can be the biggest night of my life."
---
---
Safety Policy
Must be 21 years of age or older.
Coushatta Casino Resort reserves the right to alter or cancel any event or promotion without prior notice. Offers are not intended for excluded guests.