NINE FABULOUS Dining options
PJ's Coffee of New Orleans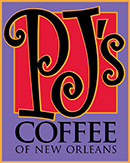 ABOUT PJ's Coffee of New Orleans
PJ's coffee is conveniently located in the lobby of the new Seven Clans Hotel. Come and enjoy a steaming hot cup of coffee, a silky latte, a specialty drink or delicious pastries. Whether you are getting your morning started or reinvigorating your afternoon, PJ's is your one stop shop for a pick-me-up.
Now Serving Breakfast
PJ's has added breakfast served 7am-11am! Now you can order a delicious hot breakfast sandwich, choose freshly baked croissant or homemade biscuit stuffed with egg, cheese, and your choice of sausage, ham, or bacon.
HOURS
Daily 6am-10pm
Menu items and prices subject to change and availability.