FABULOUS Dining options
Courtyard Café & Beignets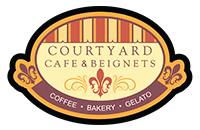 ABOUT courtyard café & Beignets
Courtyard Café & Beignets is conveniently located in the lobby of Seven Clans Hotel. Come and enjoy a steaming hot cup of coffee, a silky latte, a specialty drink or delicious pastries––including the official state doughnut of Louisiana, scrumptious beignets!
At Courtyard Café & Beignets, you can savor these piping hot squares of deliciousness––lavishly sprinkled with powdered sugar––with a cup (or two!) of freshly brewed coffee.
Enjoy your treat indoors, or take your goodies outdoors to the Sculpture Garden's covered patio and relax in the serenity of an open-air setting.
New! Now serving Gelato & ice cream, plus homemade candies!
We are delighted to introduce our own homemade gelato and ice cream! Reward your tastebuds with the creamy goodness of our popular new favorites. Made fresh daily by our in-house bakery, these frozen scoops of smooth, rich decadence are sure to please.
If you're a candy lover, you'll appreciate our daily fresh-made variety of homemade chocolate and candy treats, just bursting with irresistible flavor––it's a real sweet deal!
breakfast
Breakfast is served 7am-11am. Savor a delicious hot breakfast sandwich--choose a freshly baked croissant or a homemade biscuit stuffed with egg, cheese, and your choice of sausage, ham, or bacon.
Whether you're getting your morning started or reinvigorating your afternoon, Courtyard Café & Beignets is your one-stop-shop for a quick pick-me-up. It's the sweetest way to take a break!
HOURS
Monday-Thursday • 6am-2pm
Friday-Sunday • 6am-5pm